4DST: Four-Dimensional Hyperpectral/Hypertemporal
Imager for AI-Controlled Robotic Manipulation of Objects (The 'Eyes and Ears' of Autonomous Systems)
Always pushing technology to new heights, SSI is excited to announce
the 2019 TechConnect Innovation Award winning 4DST Technology for
autonomous imaging systems.
With all the facilities of traditional video, plus new sensory capability to monitor infrared spectral content along with acoustic vibrations (4D sensing). This allows for imaging and measurement of characteristic material type and acoustic 'signatures' of objects, which can be deployed for a broad range of commercial uses in manufacturing, robotics and
machine vision sensors, recycling and food quality, and beyond.
The 4DST approach provides for an entirely new multidimensional imaging that not only enriches the information content, but also makes it possible to generate high fidelity hyperspectral data while monitoring unstable optical phenomena.
The technology is fully owned by SSI with:
Patented optical data encoding
Proprietary acoustic vibration characterization algorithms
Highest information content per pixel of competing sensors
Rugged and compact design
Inherent flexibility for immediate application
This 4DST technology is at the cutting edge of an R&D driven, up-and-coming market that will build on the dynamic 3D robotic vision sector.
If you are a potential licensing partner, looking for collaborative development, or an investor with a specific market need, we are ready to "fine-tune" the range of applications for your specified usage.
Just another example of how Spectral Sciences engineers the "fiction" out of Science Fiction for your enhanced engagement with today's technology market.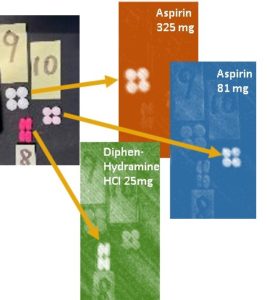 Spectral Discrimination of Pharmaceuticals.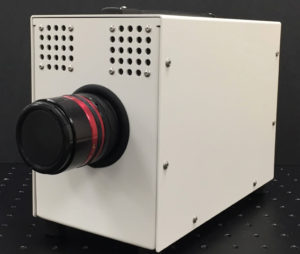 The CONDOR compact 4DST imager, currently under development at SSI.
Spectral range: NIR/SWIR 0.85 µm to 1.7 µm.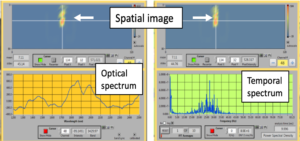 spectral and temporal information.